Glove Specialists Size Guide
We take pride in stocking a range of gloves to fit every hand and age range, but not all gloves are the same, so it is important you check your size before ordering.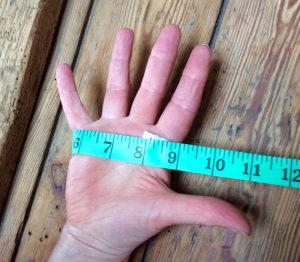 How to measure your size?
Measure your dominant hand with a tape measure (around the knuckles of your fingers only) in inches.
The size that you measure in inches, is your glove size
Size Charts
Close-Fitting Gloves
| | |
| --- | --- |
|  Inches | Close-fitting Glove Size |
| 6 | X-Small |
| 7 | Small |
| 8 | Medium |
| 9 | Large |
| 10 | X-Large |
| 11 | XX-Large |
| 12 | XXX-Large |
Loose-Fitting Gloves
(including leather gloves and gauntlets) 
| | |
| --- | --- |
| Inches | Loose-Fitting Size |
| 5 | XXX-Small |
| 6 | XX-Small |
| 7 | X-Small |
| 8 | Small |
| 9 | Medium |
| 10 | Large |
| 11 | X-Large |
| 12 | XX-Large |
| 13 | XXX-Large |